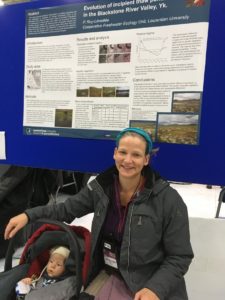 Pascale (and baby Florent!) participated in the 2018 Yellowknife Geoscience Forum, which had a very good turn out of permafrost scientists!
Pascale presented a poster with some data and thought son the Evolution of incipient lowland thermokarst features in the Blackstone River valley, Yukon (abstract on p. 108 of the Forum's book of abstracts).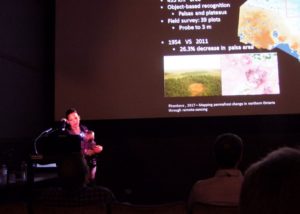 Pascale also presented a brief overview of the thermal monitoring and geomorphological mapping work carried by Maare Packalen, Jim McLaughlin, and Zlatka Pironkova in Ontario Far North. See Permafrost monitoring in the Hudson Bay Lowlands: preliminary results from the Ontario Far North in the Forum's book of abstracts, p. 60.
The stirring committee of the new Canadian Permafrost Association used the opportunity to have a fruitful meeting in person. The new association should be up and running this summer! Kumari Karunaratne and Toni Lewkowicz gave a presentation to update the community and gather input regarding the mission statement, logo, etc. See The formation of a Canadian permafrost association in the abstract book of the Forum, p. 44.